From exclusion to empowerment
.
Traditionally, wealth and opportunity attract investment – so communities that already have resources get more. ImPower brings together government grant-making, private philanthropy, and grass-roots leadership to create place-based investment opportunities in all communities.
Community-led innovation
ImPower is growing a network of government, private and philanthropic partners who are positioned to provide resources, guidance and funding for community-led initiatives that build wealth and well-being and scale up positive change.
Connect with us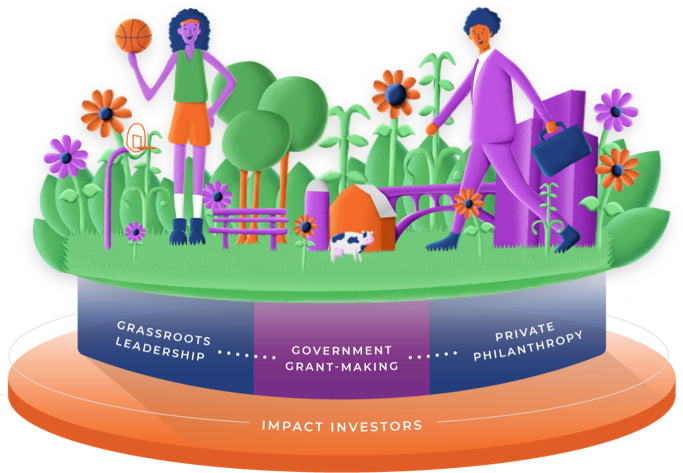 Kristin's Story
.
ImPower was founded by Kristin Pierre, a federal program manager who experienced first-hand how government grantmaking can be a catalyst for transformative systems change — as well as how promising projects can vanish when grantmaking ends.
New ecosystems for impact investment
.
The federal government makes roughly $700 billion in grants each year. ImPower is gathering partners who can help communities leverage some portion of that funding to build their own impact investing ecosystems. We believe all communities should have an onramp to opportunity – and ImPower partners are working to make that happen.
Clean Energy
Affordable Housing
Clean Water
Resilience
Some opportunity areas we're focusing on
Affordable, Energy-efficient Housing

– US Department of Housing and Urban Development (HUD).

Municipal and Community Solar Energy

– US Environmental Protection Agency (EPA) and the US Department of Energy (DOE).

Clean Water Infrastructure

– EPA's Office of Water (OW) and Water Infrastructure and Resiliency Finance Center.

Disaster Recovery and Resilience

– US Federal Emergency Management Agency (FEMA) and its Mitigation Investment Moonshot Initiative.
Innovation Lab
San Diego will serve as an innovation lab, showing how communities, philanthropy, and government agencies can come together and explore impact investing efforts — and the systems that support them — to move the needle on social change.
Philanthropy California, and specifically the interest, experience, and engagement of San Diego Grantmakers (SDG), creates the needed environment to explore how impact investing ecosystems can be locally-designed, deployed, and most importantly connected to the greater federal system for additional resources.
Contact us
Community Investment Opportunities
ImPower seeks to grow impact in communities — and the impact investing marketplace — by identifying areas where interest, local champions, capacities, and momentum intersect. Washington State is an area of interest for these reasons. ImPower is seeking locally-driven models of impact investing ecosystems that can be connected not only to federal resources but also linked to national economic development systems.
ImPower will work with partner communities to support collaboration between government, impact investing, intermediaries, and community partners in a variety of areas.
Contact us
Past event
Place-Based Impact Investing in Action
When: Thursday, November 14, 2019
Where: San Diego, CA
More info
ImPower is supported by impact investing trailblazers the Heron Foundation and the Surdna Foundation, and is housed at the Council on Foundations.